ENALOCK series
Wide-use press machine jigs for joining two metal sheets on a press machine.
Caulking metals without fasteners such as welding/joining materials/adhesives.
By incorporating ENALOCK in the die, it is possible to carry out
joining and caulking at the same time, using only the press process.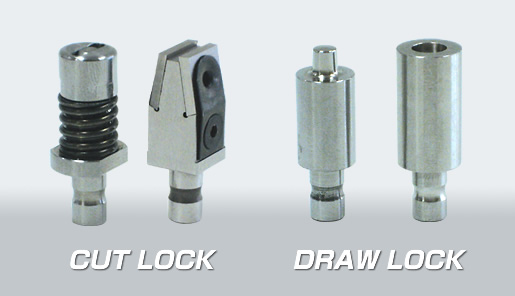 ENALOCK enables the further reduction of running costs.
Suitable joining of the same or different kind metal such as steel, stainless steel,aluminium, etc. is possible.
It is possible to use ENALOCK for coated metal sheets because there is no heating process involved.
Productivity is enhanced due to the high speed process using press forming.
Not necessary to adjust the fitting of the die after replacing.
It is possible to replace tools without disassembling the die.

Aiming at minimizing production cost, this is further reduced by the design for long-term durability.
Characteristics

It is possible to join strongly with little pressure. The caulking is strong from the pull from certain directions. It has the necessary strength from a combination of the vertical and horizontal.

CUT LOCK caulking (Section)

The die blade can be used for 4 times.

Cut Lock specifications

---

Ideal for products for which air-tightness is essential. Low cost and quick supply are met.
Characteristics

Caulking process that ensures air-tightness with the compressive shrink method.Ensures strength in all directions because of the equal pull from all directions.

DRAW LOCK Caulking(Section)

DRAW LOCK Specifications

---
Examples of fitting ENALOCKS
| | |
| --- | --- |
| An example of ENALOCK caulking from the side with punch dies fitted in a circle. | An example of ENALOCK caulking with punch dies fitted in top and bottom lines. |
Examples of processes using ENALOCKS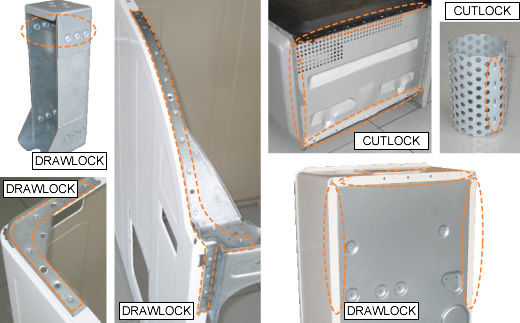 *There are more performance examples. We accept trial production beforehand.
 Please do not hesitate to contact us for further information.