Realize tact time 6 sec "200t high speed press line"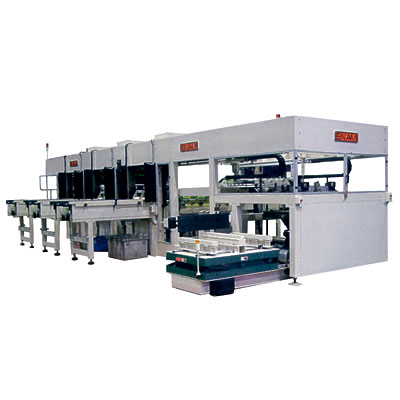 Equipment overview
The line has 3 press machines.
This line mounts and positions a cut blank in the positioning table, performs 3-stage-press,and releases the product.
The Line with a transfer machine.
This machine has been delivered as a line to form a body of the air conditioner (fan section).
feature
Realize keeping down price and reducing the production tact from 8 sec to 6.
This machine has an unmanned die change function and can manufacture various products.
Pitless installation. Easy layout work
Benefits
4 stages used to be required, but the improved die method requires only 3 stages.
Reducing the number of dies from 4 to 3 saves the controll cost.
Machine height is low, so that this machine can be installed in the low ceiling plant.
Specification
Line tact time

6 seconds

Die exchange time

Within 10 minutes

Input material size (maximum)

1,400mm x 900mm(

Loading height

:400mm)

Table area (maximum)

1,600mm x 1,000mm

Line length

11,100mm
Watch the motion video