Change overhang processing to drawins.As a result, any scratches no longer occur.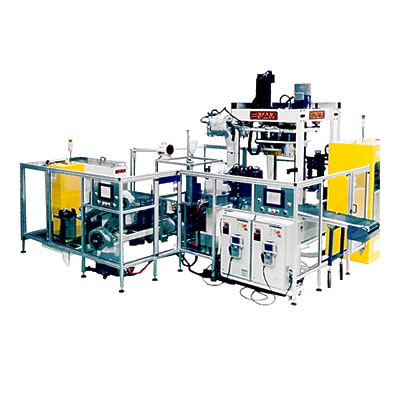 This is a processing machine, which end-draws,hemming-bends, and roll-forms a cylinder shaped SUS sheet
and plating sheet.
feature
This machine can end-draw/hemming-bend and roll-form the cylinder-both-ends simultaneously.
For end-bending section, servo press machine is used.
Though conventional method, which is expanding a core, often makes processing scratches inside cylinder, ENAMI machine will not make any scratches.
This machine, which performs end-drawing/hemming bending and roll-forming simultaneously, has improved productivity.
End-drawing processing makes drawing section harder than used to be, so that thinner plates also can be used.
Specification
Machine tact

35 seconds

Target work

Outer diameter:660mm




Height: 570mm

D

rawing diameter

620mm
Request from the customer
The customer production is "expand"(method of spread from inside), so that the shape of product is distorted cylinder.
Take the new method, which is drawing the upper and lower of cylinder, form precise cylinder
Why ENAMI?
Only ENAMI can perform the special processing.
The profit the customer gained
Precise cylinder shape is formed, so that quality of the dryer drum has improved.
Watch the motion video